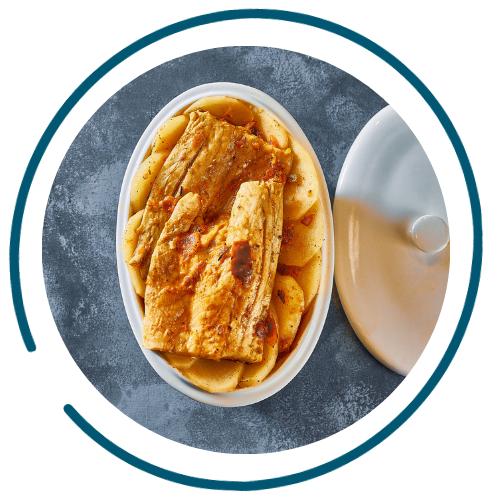 Easy-Pick | Ready for Oven
14 products
Bocsha's Ready-for-Oven Fish, featuring a tantalizing assortment of sea bass, meagre, Nile perch and shrimps. Elevate your culinary experience with our premium selection of expertly cleaned and carefully portioned fish, prepped and ready to be cooked to perfection in your oven.

To complement your meal, we have included a bottom layer of perfectly cut potato chips, adding a flavorful crunch to every bite.
We are thrilled to offer four unique and mouthwatering Bocsha recipes to bring out the best flavors in our fish selection:

1. Egyptian Sayadeya: Immerse yourself in tradition with this classic Egyptian fish dish, where our fish is accompanied by a flavorful blend of spices, tomatoes, and onions.

2.Cream and Garlic: Indulge in a rich and creamy culinary experience with our fish drenched in a velvety sauce infused with garlic and hints of herbs.

3. The Fisherman: Embark on a local Egyptian seafood adventure with this delightful recipe where our fish is seasoned with a minimal blend of aromatic spices, highlighting the natural flavors of the sea just like local fisherman cook.

4. Bocsha Original: Our signature recipe presents a unique fusion of flavors, expertly crafted to tantalize your taste buds.

Experience the convenience and gourmet quality of Bocsha's Ready-for-Oven Fish Collection. Simply pick and drop to cart your item on our website to place your order, and within minutes, you'll have everything you need to create a satisfying and delectable meal.
Elevate your dining experience with Bocsha's unique fish collection, perfectly paired with our specialty recipes. Uncover the secrets of exceptional seafood with Bocsha and delight in a memorable feast with family and friends.